Understanding the evolving nature of industrial end markets has been crucial for Clyde Blowers Capital (CBC) in driving value within our current portfolio and in shaping our future investment strategy. Over the last few years there has been a notable shift from the traditional industrial end markets to a group of end markets which have increasing relevance as we move through the 21st Century. We refer to these end markets as "consumer-focused."
Supply chain overcapacity
As is well-documented, since the end of the mining capex "super cycle" in 2012 and the peak of the last oil & gas upcycle in 2014, there has been a significant fall in capital expenditure from the mining and oil & gas majors. The substantial investment by equipment producers during these boom years has left an overcapacity in global production for much of the equipment that was sold into the upcycles. Overcapacity is particularly acute in Western markets but has also become apparent in Eastern economies such as China (perhaps less so in India), leading to margin pressure throughout the supply chain from the reduced volume of new equipment orders.
CBC's focus on ensuring aftermarket (i.e. service & repair work on equipment already installed) is a significant portion of revenue tends to mitigate against falls in new build capex, but nevertheless, our companies have had to carefully consider which end markets to target for profitable opportunities as new project work has fallen in the traditional commodity markets. We remain optimistic for oil & gas in the medium-term but less so for future investment in coal-fired power and some of the more traditional mining commodities. Industrial commentators' views vary widely on the steepness of the growth curves for renewable energy and electric cars but there is unanimous agreement on the unstoppable momentum from the "decarbonisation" of the global economy.
Understanding what decarbonisation means for industrial markets gives us insight into those end markets that are set to grow for the foreseeable future – those markets where consumer demand will provide sustainable growth.
New energy and consumer demand driving growth
According to the UN, the global population is set to grow from 7.6 billion to 9.8 billion by 2050 and to 11.2 billion by 2100. Most of this growth will come from countries that have relatively poor infrastructure today. Urbanisation and growth in the middle classes, in addition to the growing demand for energy (and in most cases, cleaner energy), are already increasing demand for certain commodities, products and services, influencing future growth strategies for many industrial groups.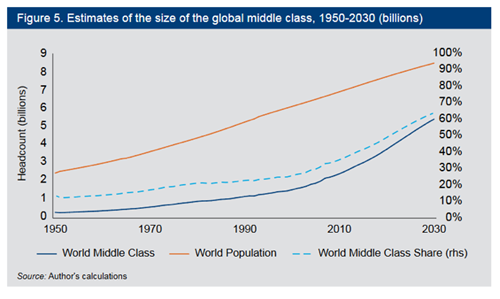 The Amazon effect
An example of where we have seen this consumer driven trend is in the pulp & paper industry. Despite the rise in electronic devices, global consumption in packaging and tissue continues to grow.  The Amazon/Alibaba effect from internet shopping, together with an increasing demand for processed food packaging and improvements in personal healthcare and hygiene are all helping to drive the pulp & paper market. In addition, it is likely the war on plastic will provide further support by promoting more environmentally friendly paper-based packaging. CBC's industrial gearing group, David Brown Santasalo ("DBS"), holds a market leading position in the pulp & paper industry and is benefiting from both the installation of new packaging and tissue production (particularly in China) and the conversion of facilities previously used for newsprint.   
The impact of electrification
Both DBS and Keto (a CBC portfolio company which designs, manufactures and services slurry pumps for the mining and minerals processing industries) have been focused on winning new business in commodities that are beneficiaries of the evolution in the energy sector towards cleaner energy sources and energy storage. Demand for copper grew at c.3% CAGR between 2012 and 2017, with similar levels of demand growth expected for the next few years. Drivers such as renewable energy infrastructure investment, growing installations of wind and solar energy farms, consumer electronics and a shift to more copper-intensive automotive vehicles all point to a very positive outlook for copper.  
Another commodity with a bright future is lithium, a key component in lithium-ion batteries – the pre-eminent battery technology for consumer electronics and the leading contender in the race to develop an industrial scale energy storage solution. Much of the process and technology used to extract the mineral ores containing lithium is the same as for more traditionally mined commodities such as coal and iron ore, meaning Keto and DBS can use existing products and services to target lithium opportunities.
The modernisation of traditional industrial engineering
Pulp & paper and copper are just two examples of markets with strong medium to long-term consumer driven growth dynamics. Other markets exhibiting similar trends include rubber products, rail, food processing and renewable energy.
However, while traditional engineered products remain as relevant as ever in these consumer-driven end markets, customers are demanding more complex, more efficient solutions with a focus on reducing equipment downtime and offering greater choice and flexibility – this plays well to CBC's position at the highly-engineered end of the supply chain, with our companies' R&D teams continuing to grasp the opportunities arising from evolving industrial technologies. 
Services such as remote condition monitoring and predictive maintenance are also of significant focus for our companies as we continue to modernise established engineering technologies.
Industrials must evolve
As CBC continues to maximise value in its current portfolio and as we look towards future investments, our focus will be on ensuring our current and future companies are facing the end markets that will serve the global population for decades to come. Traditional engineered systems and processes will continue to remain at the forefront of industrial activity but the end markets that lead the way in the 21stcentury will be different from those that have dominated for the past 100 years. The challenge for industrial groups will be to ensure they keep up with this evolution!
*All information contained in this article was correct to the best of the author's knowledge at the time of publication. All opinions expressed in this article are based on the views of the author and should not be taken as investment advice or guidance.